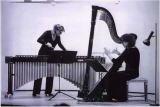 'Dialogue of harp and marimba'
'Enjoying music full of unusual timbres'
Schaffhausen / Switzerland, 2000
...an exquisite delight. Two sonatas from the classical era were evidence that music won't lose its original charm when transformed to be played by different instruments.
The original compositions - written specially for the Duo - offered peppy rhythms, efficient in the interpretation of the specific possibilities of both instruments.
'A rather tantalising combination of instruments '
Rheingau Musik Festival 1998
... curiosity was immense, for neither marimba nor harp can be assumed to be instruments one is absolutely familiar with....
...they both played in total harmony ... both being downright sensitive on their instrument, technically brilliant, being in complete agreement with each other when it came to interpretation...
"Arparimba" played again with huge success
Weilburger Schlosskonzerte 1998

'A mother-daughter combination full of verve'
Oldenburg
Virtuosity on rare instruments